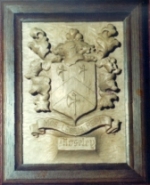 We have been collecting family history information along with a cousin in Ohio and her husband. When we bought some coffee cups with a Moseley coat of arms logo, I decided to carve a plaque. Framed in walnut, it is carved in bass wood. The family motto on the banner at the bottom is "MOS LEGEM REGIT" or "CUSTOM REGULATES THE LAW". Since then, we have learned that the helmet crest should be a silver eagle and the battle axes should be mill picks. We don't know if my ancestors were barristers or masons. The name "Moseley" is thought to have come from the Anglo-Saxon term, "mossy lea", which meant green field. This piece still hangs on the wall in our home.


A few miscellaneous items.

This little peon enjoying his siesta is made from eastern white pine.








Can't forget the cannon and the castle. The cannon was made from a plastic model using a 6" Atlas metal turning lathe. The mahogany castle was a retirement gift for a biologist friend retiring from the U.S. Corps of Army Engineers. The Army Engineers logo includes the castle .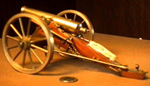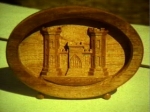 I still have only a few of the carvings shown here and they are not for sale.





If you would like to see pictures of some of my carvings, go to:

Please call or E-mail for additional information on wood carving topics. Telephone number is (816)358-7421 or E-mail at the following:
Loren W. Moseley
11700 E. 62nd Street
Kansas City, MO 64133-4445

For information on Ed Zinger's Woodcarving Rendezvous Seminars, custom carving knives, and caricature roughouts, log on to:
Wood Carving Rendezvous

For information on the National Wood Carvers Association and the ChipChats magazine, log on to:
National Wood Carvers Association

For information on The Kansas City Wood Carving Club and other wood carving sites, log on to :

If you are interested in family history information for Moseley, Cryder, Rittenhouse, Holycross, Worthington, Wingfield, Bidwell, or many other converging family names, log on to:
The "MOSELEY" Name Page.
Or E-mail:
lwmose@comcast.net, Loren Moseley

CLICK HERE TO GO BACK TO MAIN PAGE