My earliest carvings were done as a child recovering from rheumatic fever. They were mostly whittled items in soft pine. One of my uncles was quite talented as a carver and painter and some of my urges to carve were encouraged by him. More serious carving efforts began in 1964 following a vacation trip to Cape Hatteras where a 4 X 4 Spanish cedar piece of driftwood caught my eye and later became a stylized whale. With later public interest in whale conservation and availability of literature, I learned just how stylized it was. Then I got my first set of Millers Falls palm-handled carving tools and found I had to learn how to sharpen them. My first project with these tools was a set of 7 comical horses patterned after the famous Chinese horses. They were supposed to be sort of roughly finished with a carved surface. However, they got quite grimy from handling and I sanded and smoothed them down.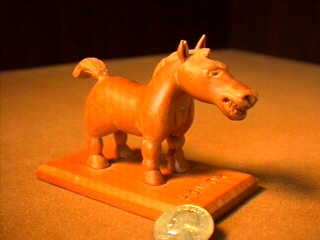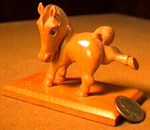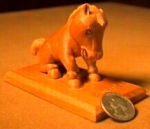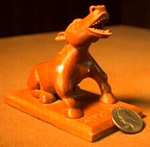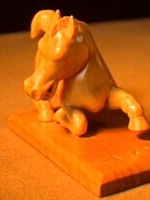 From left to right and top to bottom, the horses are titled: HOWDY, IZZATSO, KICKIN', IWON'T, WAZZAT?, HORSELAUGH, and THANKYOU.

This carving was done in Honduras mahogany for a friend where I worked. The original mahogany was a hewn slab 30 inches wide and about 36 inches long by 4 1/2 inches thick. A friend brought it back from Central America where he had been working as a microbiologist on a banana disease problem.

Things progressed from the horses to miniature duck and goose decoys and other birds shown in "Birds". I carved more steadily in the '70's and '80's than I do now. Dogs, horses, waterfowl, and fish seemed to be favorite subjects, but, a few other subjects were attempted, also. I kept a ledger of all the carvings I have made and it has grown to about 185 items. I cannot show them all in this web page, but, several are worth looking at. The images were taken from 35 mm slides projected on a screen and then viewed through an 8 mm video camera connected to an Intel PC Pro digital camera. The telephoto/wide angle features of the camcorder really help in framing the shot properly. The images were saved as JPEG (*.jpg) images and then further cropped and sized in a bit-map editor.
I still have only a few of the carvings shown on these web pages and they are not for sale.





If you would like to see pictures of some of my other carvings, go to:

Please call or E-mail for additional information on wood carving topics. Telephone number is (816)358-7421 or E-mail at the following:
Loren W. Moseley
11700 E. 62nd Street
Kansas City, MO 64133-4445

For information on Ed Zinger's Woodcarving Rendezvous Seminars, custom carving knives, and caricature roughouts, log on to:
Wood Carving Rendezvous

For information on the National Wood Carvers Association and the ChipChats magazine, log on to:
National Wood Carvers Association

For information on The Kansas City Wood Carving Club and other wood carving sites, Email Marty Epping at: mepping@kc.rr.com

If you are interested in family history information for Moseley, Cryder, Rittenhouse, Holycross, Worthington, Wingfield, Bidwell, or many other converging family names, log on to:
The "MOSELEY" Name Page.
Or E-mail:
lwmose@yahoo.com, Loren Moseley

CLICK HERE TO GO BACK TO MAIN PAGE