Eventually, I acquired a band saw and an ever-increasing collection of chisels and knives. Even then, this collection was a hodge-podge of different brands of chisels and other tools. By 1972, we had moved from Ohio to Nebraska and then to Kansas City and I and two other carvers organized the Kansas City Chippers as a local chapter of the National Wood Carvers Association. Ed Zinger and I are the two surviving founders. "Spike Boyd", the other founder passed away some years ago. Ed and I served as President of the club during its early years and it has grown now to a sizeable group hosting wood carving shows in the spring and fall. As a result of the publicity just after the club got started, I was contacted by a woman whose father had some carving tools to sell and I bought them. There were about 30 pieces of Addis and Buck tools of about 1911 vintage. The gentleman who owned them was a retired industrial arts teacher, but was no longer able to make use of the tools at the age of 83. I still have these tools along with the Millers Falls set and they are all in one wooden case with other miscellaneous carving chisels, knives, and rasps.

I carved more steadily in the '70's and '80's than I do now. Dogs, horses, waterfowl, and fish seemed to be favorite subjects, but, a few other subjects were attempted, also. I kept a ledger of all the carvings I have made and it has grown to about 185 items. I cannot show them all in this web page, but, several are worth looking at. The images were taken from 35 mm slides projected on a screen and then viewed through an 8 mm video camera connected to an Intel PC Pro digital camera. The telephoto/wide angle features of the camcorder really help in framing the shot properly. The images were saved as JPEG (*.jpg) images and then further cropped and sized in a bit-map editor.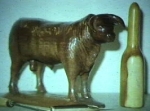 This Hereford bull was done in Honduras mahogany also. It was a wedding present for a cousin whose new spouse was a veterinarian in a large-animal practice in Texas. They have a general practice now in Mobile, AL and the carving was stolen from the office several years ago. If you ever see it, please let me know.


This Kodiak brown bear is made from the same piece of mahogany as the horse and the bull. It was also a wedding present for another cousin, brother to the cousin who got the bull. His nickname was "Bear".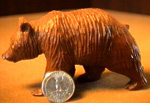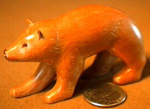 The other two bears were carved about 30 years ago and they are still on our shelves.





I also carved a few cats along the way.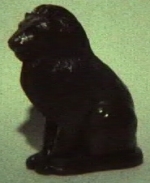 Elephants were a challenging subject in walnut, mahogany,and white pine.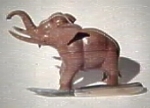 Other mammals were attempted, too - prairie dog, bighorn ram and pronghorn antelope.


If you would like to see pictures of some of my carvings, go to:

I still have only a few of the carvings shown here and they are not for sale.



Please call or E-mail for additional information on wood carving topics. Telephone number is (816)358-7421 or E-mail at the following:
Loren W. Moseley
11700 E. 62nd Street
Kansas City, MO 64133-4445

For information on Ed Zinger's Woodcarving Rendezvous Seminars, custom carving knives, and caricature roughouts, log on to:
Wood Carving Rendezvous

For information on the National Wood Carvers Association and the ChipChats magazine, log on to:
National Wood Carvers Association

For information on The Kansas City Wood Carving Club and other wood carving sites, log on to :

If you are interested in family history information for Moseley, Cryder, Rittenhouse, Holycross, Worthington, Wingfield, Bidwell, or many other converging family names, contact:
E-mail:
lwmose@comcast.net, Loren Moseley

CLICK HERE TO GO BACK TO MAIN PAGE