My earliest carvings were done as a child recovering from rheumatic fever. They were mostly whittled items in soft pine. One of my uncles was quite talented as a carver and painter and some of my urges to carve were encouraged by him. More serious carving efforts began in 1964 following a vacation trip to Cape Hatteras where a 4 X 4 Spanish cedar piece of driftwood caught my eye and later became a stylized whale. With later public interest in whale conservation and availability of literature, I learned just how stylized it was. Then I got my first set of Millers Falls palm-handled carving tools and found I had to learn how to sharpen them. My first project with these tools was a set of 7 comical horses patterned after the famous Chinese horses. They were supposed to be sort of roughly finished with a carved surface. However, they got quite grimy from handling and I sanded and smoothed them down.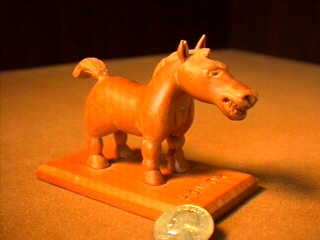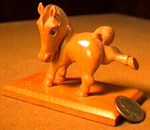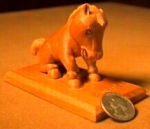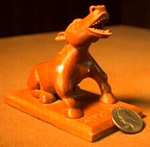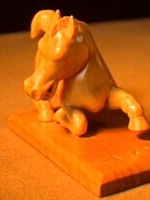 From left to right and top to bottom, the horses are titled: HOWDY, IZZATSO, KICKIN', IWON'T, WAZZAT?, HORSELAUGH, and THANKYOU.
Things progressed from the horses to miniature duck and goose decoys. Although I got the carving pretty well in hand, I never mastered the painting and I settled on natural finishes.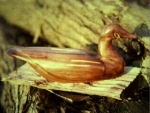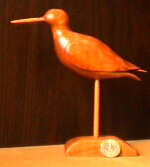 Eventually, I acquired a band saw and an ever-increasing collection of chisels and knives. Even then, this collection was a hodge-podge of different brands of chisels and other tools. By 1972, we had moved from Ohio to Nebraska and then to Kansas City and I and two other carvers organized the Kansas City Chippers as a local chapter of the National Wood Carvers Association. Ed Zinger and I are the two surviving founders. "Spike Boyd", the other founder passed away some years ago. Ed and I served as President of the club during its early years and it has grown now to a sizeable group hosting wood carving shows in the spring and fall. As a result of the publicity just after the club got started, I was contacted by a woman whose father had some carving tools to sell and I bought them. There were about 30 pieces of Addis and Buck tools of about 1911 vintage. The gentleman who owned them was a retired industrial arts teacher, but was no longer able to make use of the tools at the age of 83. I still have these tools along with the Millers Falls set and they are all in one wooden case with other miscellaneous carving chisels, knives, and rasps.

I carved more steadily in the '70's and '80's than I do now. Dogs, horses, waterfowl, and fish seemed to be favorite subjects, but, a few other subjects were attempted, also. I kept a ledger of all the carvings I have made and it has grown to about 185 items. I cannot show them all in this web page, but, several are worth looking at. The images were taken from 35 mm slides projected on a screen and then viewed through an 8 mm video camera connected to an Intel PC Pro digital camera. The telephoto/wide angle features of the camcorder really help in framing the shot properly. The images were saved as JPEG (*.jpg) images and then further cropped and sized in a bit-map editor.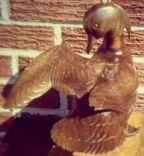 This walnut preening wood duck was based on a mallard pattern from "Game Bird Carving" by Burk. The pattern was scaled down to wood duck size with a large pantograph which I had to build. When the duck was finished, the wife immediately claimed it. However, at the next show, even though I priced it high to discourage buyers, one was not and even the wife agreed to let it go. I still have not replaced it.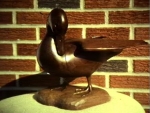 This walnut preening mallard was made from a pattern from Burk's book and is one of two I carved. This one was done for a friend and was on display at a show at the Hermann Maifest. A woman from St. Louis wanted one like it and ordered one.




This carving is the one done for the woman from St. Louis. It was delivered to her on one of our trips east to visit family






This carving was done in Honduras mahogany for a friend where I worked. The original mahogany was a hewn slab 30 inches wide and about 36 inches long by 4 1/2 inches thick. A friend brought it back from Central America where he had been working as a microbiologist on a banana disease problem.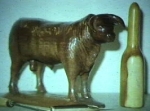 This Hereford bull was done in Honduras mahogany also. It was a wedding present for a cousin whose new spouse was a veterinarian in a large-animal practice in Texas. They have a general practice now in Mobile, AL and the carving was stolen from the office several years ago. If you ever see it, please let me know.


This Kodiak brown bear is made from the same piece of mahogany as the horse and the bull. It was also a wedding present for another cousin, brother to the cousin who got the bull. His nickname was "Bear".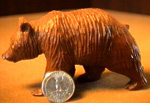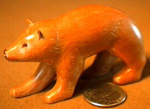 The other two bears were carved about 30 years ago and they are still on our shelves.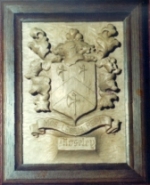 We have been collecting family history information along with a cousin in Ohio and her husband. When we bought some coffee cups with a Moseley coat of arms logo, I decided to carve a plaque. Framed in walnut, it is carved in bass wood. The family motto on the banner at the bottom is "MOS LEGEM REGIT" or "CUSTOM REGULATES THE LAW". Since then, we have learned that the helmet crest should be a silver eagle and the battle axes should be mill picks. We don't know if my ancestors were barristers or masons. The name "Moseley" is thought to have come from the Anglo-Saxon term, "mossy lea", which meant green field. This piece still hangs on the wall in our home.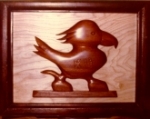 This Jayhawk was made for the Head of the Power Division of Black & Veatch Engineers for his 50th birthday and was commissioned by his wife. This plaque version is made from a slab sawed off from the roughout for the 3D carving. It was given to the buyer in addition to the 3D carving. Both were made from that Honduras mahogany slab from Central America.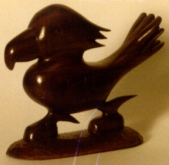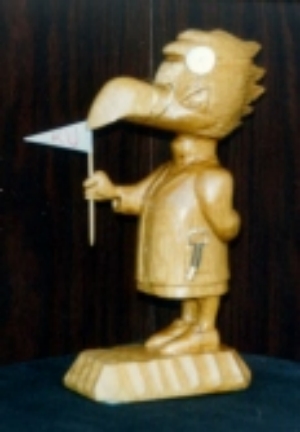 Jayhawks have been popular since my daughter finished medical school and pediatrics/internal medicine residency at Kansas University Medical Center. However, women have their own version of the famous bird - Shedoc (carved in white oak)

Several dogs and cats I have carved over the years.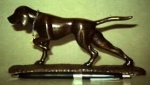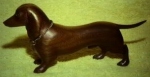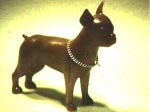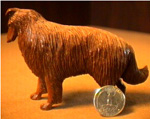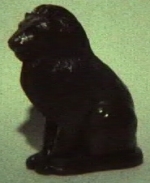 Fish have been a favorite subject and I know a bit about them and their anatomy. Of course, being a retired fisheries biologist does help. All of these are from one solid piece of wood.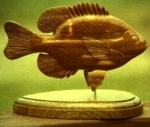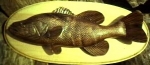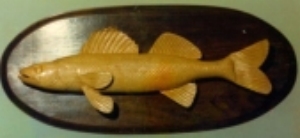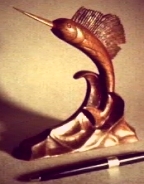 Although I did not carve this cherry bluegill myself, I can take some credit as my son carved it as his first fish and gave it to me for my birthday in 1987.




Owls are nice subjects too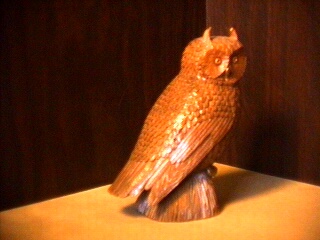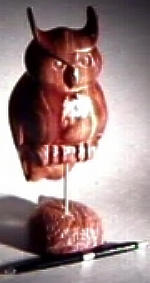 Elephants were a challenging subject in walnut, mahogany,and white pine.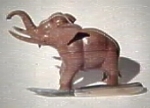 A few miscellaneous items - pelican, peon, prairie dog, bighorn ram and pronghorn antelope.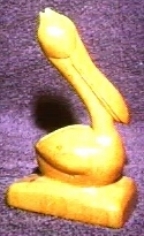 Can't forget the cannon and the castle.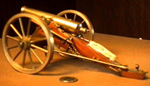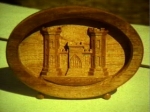 I still have only a few of the carvings shown here and they are not for sale.





Please call or E-mail for additional information on wood carving topics. Telephone number is (816)358-7421 or E-mail at the following:
Loren W. Moseley
11700 E. 62nd Street
Kansas City, MO 64133-4445

For information on Ed Zinger's Woodcarving Rendezvous Seminars, custom carving knives, and caricature roughouts, log on to:
Wood Carving Rendezvous

For information on the National Wood Carvers Association and the ChipChats magazine, log on to:
National Wood Carvers Association

For information on The Kansas City Wood Carving Club and other wood carving sites, log on to :

If you are interested in family history information for Moseley, Cryder, Rittenhouse, Holycross, Worthington, Wingfield, Bidwell, or many other converging family names, log on to:
The "MOSELEY" Name Page.
Or E-mail:
lwmose@comcast.net, Loren Moseley

CLICK HERE TO GO BACK TO MAIN PAGE